2 Days of Online Live Mentor-led Workshops
No Coding Experience Required!
For Beginners as well as Professionals
2 days of LIVE Learning Workshops
1 Machine Learning Project
Session Recordings for Revision
Additional Self-study Material
1-month Access to Learning Management System
Career Counselling Session with Industry-experts
Certificate of Participation
Looking to kickstart your journey and explore Data Science hands-on?
If you are…
Complete Beginner
Anyone who needs a full overview of Data Science projects
Someone with basic knowledge but need to fill in the gaps
This Program is for You!
This Data Science Bootcamp is the perfect opportunity for Freshers as well as professionals with any amount of experience to get started in Data Science.
SESSION TIMINGS
18th and 19th July
9 am to 11 am EDT (Saturday and Sunday)
4 pm – 6 pm EDT (Saturday and Sunday)
The Best Investment is the Investment in Yourself
Data Science Overview
Business Problem Statement
Converting the Business problem to Data Problem
Get Started with Jupyter notebooks and Github
Session 2
Exploration of Data
Fundamentals of Statistics
Univariate analysis and Bivariate Analysis
Load and Prepare dataset
Data Cleaning and Manipulation
Missing Data and Outlier Treatment
Fill null values in continuous features
Check for Class Imbalance
Session 3
Machine Learning Landscape
When to use or not use Machine Learning
Machine Learning Techniques
Challenges in Machine Learning
Feature Selection Techniques
Session 4
Model Building and Deployment
Applying models on the data

Select a model and train it.

Defining Baseline Model

Regression

Classification

Fit your model

Decision Trees

Ensemble methods

Grid-Search and Hyperparameter Tuning

Prediction of test data
Sign up for the Bootcamp Now and Get a Complimentary Career Counseling Session with Industry Experts
Will I get a certificate?
Yes, we will be issuing a course completion certification to all individuals who successfully
complete the training.
Can I ask my doubts during the sessions?
All participants are encouraged to speak up and ask their doubts. We answer all the doubts
with same sincerity.
Are there going to be separate doubt-solving sessions?
You can reach-out to the trainers within next one week if you have any doubts.
What Kind of Project will I be working on as a part of the Bootcamp?
During the training you will be on a real-time case-study/project on Machine Learning.
Will I be able to work Data Science projects independently?
Once the Bootcamp is done, you will be able to start implementing your learnings on Real
Time Datasets.
Got more questions? Get in touch with our expert!
Transform your Career with Dimensionless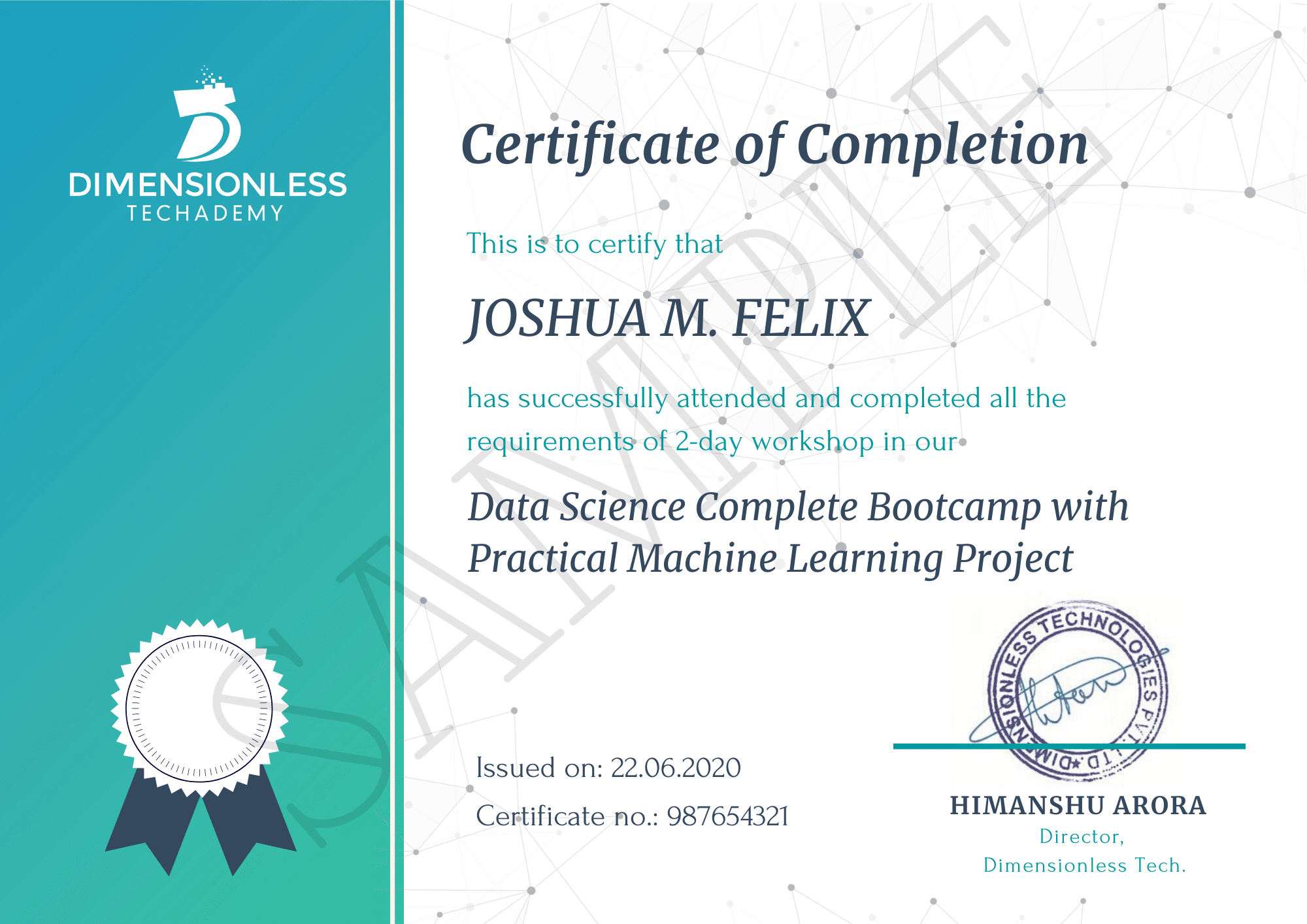 Kushagra, (IIT Delhi – 10+ years experience in Tableau, Analytics & data science), has a keen interest in Problem Solving, Deriving insights & Improving the efficiency of processes with new-age technologies.
He's good with statistical concepts and possesses thorough business understanding along with practical experience in linear models (like Linear Regression, Logistic Regression, Ridge Regression, Lasso Regression).
Tree-based algorithms (like Decision trees, Bagging, Random Forest, GBM, XGBoost), clustering (like K-Means, Hierarchical), Time-series analysis (like ARMA, ARIMA, stationarity), Deep learning(CN, RNN), NLP Techniques(TFIDF, LDA, Topic Modelling) Extensive knowledge of Tools like R, Python, Spark, Tensorflow, Keras, Tableau. Trained 5000+ participants in R, Machine Learning, Tableau and Python, Big Data Analytics at Dimensionless Conducted workshops and training on Data Analytics for Corporate and Colleges

HIMANSHU (IIT, Bombay – 10+ years experience in Data Science) A machine-learning practitioner, fascinated by the numerous application of Artificial Intelligence in the day to day life.
I enjoy applying my quantitative skills to new large-scale, data-intensive problems. I am an avid learner keen to be the frontrunner in the field of AI. I enjoy learning new technologies at work and strive hard to acquire finesse in skills that I have honed over my career.
Trained 5000+ participants in R, Machine Learning, Tableau and Python, Big Data Analytics and Deep Learning at Dimensionless
Conducted workshops and training on Data Analytics for Corporate and Colleges
He possesses knowledge of a wide variety of machine learning and deep learning algorithms.