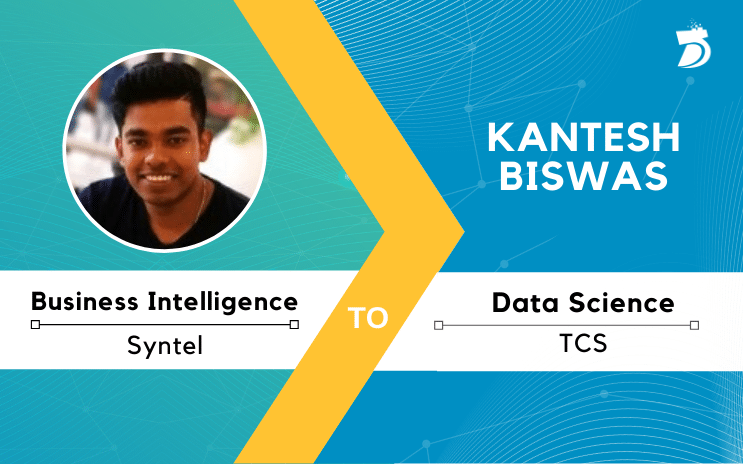 Career Transition to Data Science Success Story
I realized the only thing stopping my career-growth was my own hesitancy


– Kantesh Biswas
Background
Education: BE in IT
Previous Profile
Company: Syntel
Profile: Associate Consultant
Project: Reporting and BI
Location: India
Current Profile
Company: TCS
Profile: Business Analyst
Project: Data Science
Location: India
My journey into Data Science
Why Data Science?
I like to keep myself updated with the latest trends in the IT industry. Back in 2015, when I started my career, my choices were Data Science or Cloud Computing. After a bit of research about these domains, it was clear that with my analytical and logical skills I could do really well in Data Science.
Why Dimensionless?
One of my project-colleagues enrolled in the Data Science program at Dimensionless and he really liked the course. At first, I was a little sceptical about an online course since I am used to learning in a physical classroom. As my colleague was completing the course, he got transferred to a Data Science project internally!
That was an eye-opening moment for me. I attended a class along with him, all the students were asking doubts and getting it resolved. That helped me make the decision.
Experience with Dimensionless?
Even more comfortable than physical classes. The best part was that I could get my doubts resolved at any time. The teachers were helping and kept the classes very interactive.
This always kept me motivated to self-study and practice, study Data Science projects on my own.
I also got a lot of help from their alumni groups. Even to this day, I am in touch with my mentors at Dimensionless.
Career Transition to Data Science
Once I was comfortable in the course, the transition felt natural. And after solving case studies under the guidance of Dimensionless I was able to smoothly switch to a Data Science profile within the company itself.