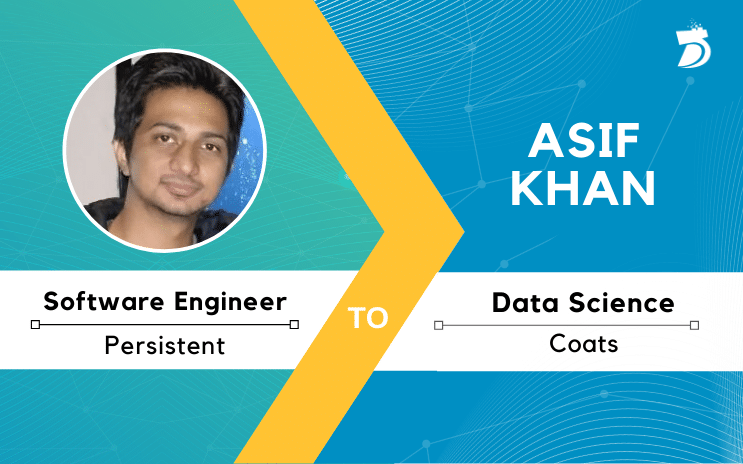 Asif Khan: Quality, in-depth Teaching at Reasonable Fees
Background: 
Education: BE in IT
Previous Profile
Company: Persistent
Profile: Sr. Software Engineer
Project: Big Data
Location: India
Transition Profile
Company: PubMatic
Profile: Operations, Hadoop Engineer
Project: Big Data
Location: India

Current Profile
Company: Coats
Profile: Data Science – Analyst
Domain: Textile/Manufacturing
Location: India
My journey into Data Science 
Why Data Science?
I got a project that was in Big Data at my then-current company Persistent. Though I had theoretical knowledge about Data Science, I realized that there was tremendous scope in the industry. And, if I have to stay ahead in the industry, I need to have in-depth hands-on knowledge. That's when I decided to take it up seriously through professional courses.
Why Dimensionless?
I was sure I did not want to compromise on my working hours or disturb my schedule and needed a course that could provide real value through its teaching. After checking the pricing of multiple courses on Simplilearn, UpGrad, CourseEra etc. I decided to attend a demo session at Dimensionless because the course was priced reasonably.
I liked the way they were teaching, it was interactive as well as easy to understand. On a personal call, they also gave me very insightful guidance on my transition path in the industry. And, that's how I was sure about Dimensionless.
How was your Experience with Dimensionless?
Very interactive classes with personalized attention. That's what I liked most about the teachers. They did not move ahead until and unless everyone had understood the lesson. It felt like we were learning in a classroom even though it was online. All the students felt very comfortable in asking doubts, and the doubts were resolved there and then. So we got to learn from other people's doubts too.
The course content and material was good too. The syllabus covered all the topics in-depth.
Career Transition to Data Science
I was assigned to a Big Data project at my previous company. Once I learnt Data Science, I confidently started applying to proper Data Science profiles. I also got Placement Assistance here. In a personal session, I got my resume improvised, and career mentoring. I even got placed at one company via Dimensionless Techademy's Placement Support.
I think being sincere and practising hands-on will help professionals get better jobs quickly, which is a huge advantage Dimensionless gives.  
Everyone who aspires to be a Data Scientist should concentrate more on hands-on knowledge, once you master it dedicatedly, the rest will come on its own.